The unique properties of ion exchange resins are due to their special internal structure, which is the combination of physical and chemical action, consists of three parts:

1. A small bead composed of a polymer crosslinked skeleton, which is mainly composed of styrene and acrylic acid matrix.
2. There are many pores in the inside of the bead, macroporous, Gel-porous.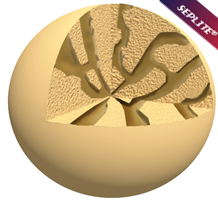 3. Ion exchange groups, bonded to the pores and surfaces, which decide their applications (see basic types of ion exchange resins for details)