Resin Adsorption Technology Expands New Ideasfor Environmental Protection Treatment
——Sunresin Participatedin The 21st China Environmental Expo
From August 13 to August 15, 2020, the 21st China Environmental Expo was held in Shanghai at New International Expo Center as scheduled. Because of the COVID-19, domestic environmental protection exhibitions decreased sharply compared with previous years. As the first large-scale exhibition in environmental protection field in 2020, it has attracted the attention of many domestic and foreign production enterprises, environmental protection engineering companies, universities and scientific research institutes. There were 2000 participating organizations and more than 80000 participants. The participants hoped that through this exhibition, they could know and learn more about new environmental protection materials, new technology
and new equipment to help them solve the environmental problems better.
Sunresin, as a domestic professional resin adsorption and separation solution provider, has provided tens of thousands of cubic meters of various ion exchange and adsorption resins for various production enterprises and environmental protection engineering companies. Besides, it provided nearly 100 sets of various adsorption and separation system devices. Moreover, with its own superior products and technologies, Sunresin helps users to solve the environmental problems encountered in the production process. Sunresin participated in the Expo as scheduled and brought four series of resin products and technologies themed as "metal recovery", "waste gas adsorption", "waste water treatment" and "special standard raising", which made the environmental protection treatment more targeted.
Special resin, corresponding process and devices for VOC treatment.

Boron removal resin and technology

High efficiency resin and technology for arsenic and phosphorus removal

Precision mercury removal resin and technology

High efficiency fluoride removal resin and technology

Chelating resin and matching process for high precision metal ion adsorption, removal and recovery

Perchlorate and nitrate removal resin and technology
(For more information,please consult the sales engineer of Sunrein for details)
During the exhibition, the leaders and technicians of the participating enterprises had an in-depth and thorough communicating with Sunresin on resin treatment technology and system equipment technology in the fields of organic waste water treatment, heavy metal waste water treatment, VOCs treatment, biochemical waste water treatment etc.The relevant enterprises showed great interest in Sunresin's products. Many enterprises have reached cooperation intention with Sunresin, relevant experimental work is being carried out right now.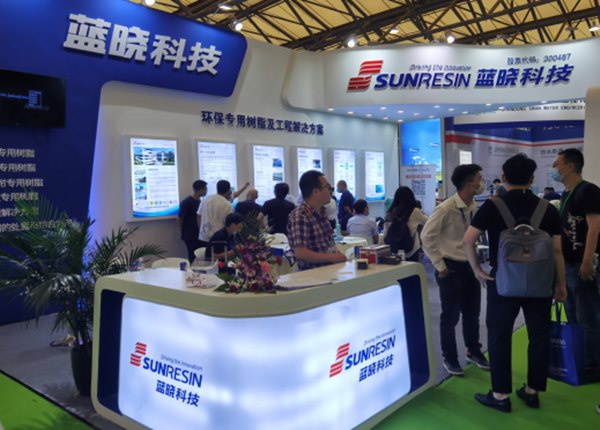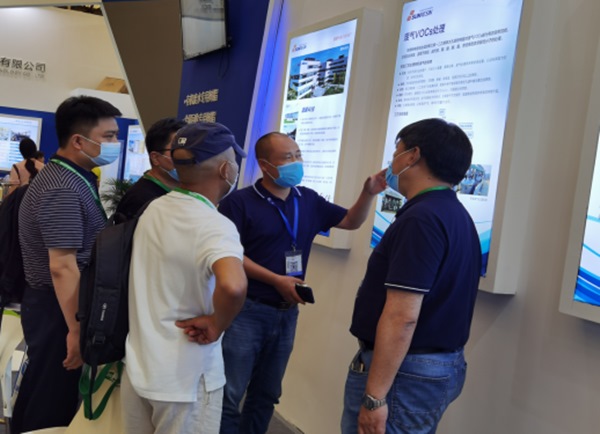 At the exhibition,resins and devices for VOCs treatment developed by Sunresin has attracted the special attention of many environmental protection companies.Due to the good safety, high adsorption efficiency and longer service life, VOCs treatment resins have been highly praised and recommended by the users. Many enterprises immediately made an appointment for the VOCs pilot test, and some enterprises signed the purchase contract on the spot.With the increasingly stringent requirements for VOCs treatment, more efficient, safer, more environmental-friendly macroporous resin adsorption technology will certainly play an important role.