Adipic acid is an important chemical raw material, mainly producing nylon 66. In the production process, a large amount of spent crystallization mother liquor will be generated, containing 5000~8000 ppm of copper and other impurities.


Adipic Acid flow chart:
Adipic Acid, (AA) Spent Crystal Mother Liquor, (spent CML)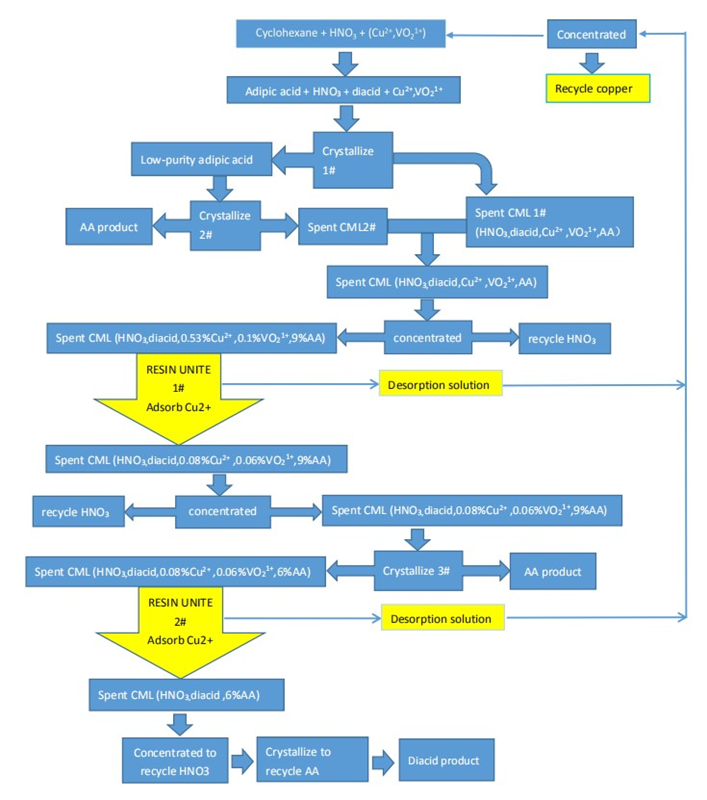 Sunresin developed SEPLITE®LSC710 is a macroporous weak acidic cationic resin with iminodiacetate chelating active group can provided high selectivity chelating resin for copper separation and recycling from Adipic acid spent CML, copper recycling ratio almost can reach to 99%.

Chelating resins can be regenerated or desorbed by acid solution, then to be reused cycle by cycle, the resin lifetime have 2-3 years.

Sunresin ever provide turn-key resin system for our PTA clients in China. Resin also can separate and recycle vanadium from spent CML.

And also the iminodiacetic acid functional group is specially developed for selective extraction of Calcium, Magnesium and Strontium in chlor alkali brines. It also provides high selectivity for heavy metal cations from solutions with high concentrations of sodium or calcium salts.

Thanks to its proprietary aminomethylation chemical route, LSC710 guarantees extremely low leakage.

Its optimized polymer structure, excellent chemical and physical stability ensure its high performance during operation in both fixed bed column and Resin-In-Pulp processes.

In operations, LSC710 demonstrates excellent mechanical strength to osmotic and thermal shock.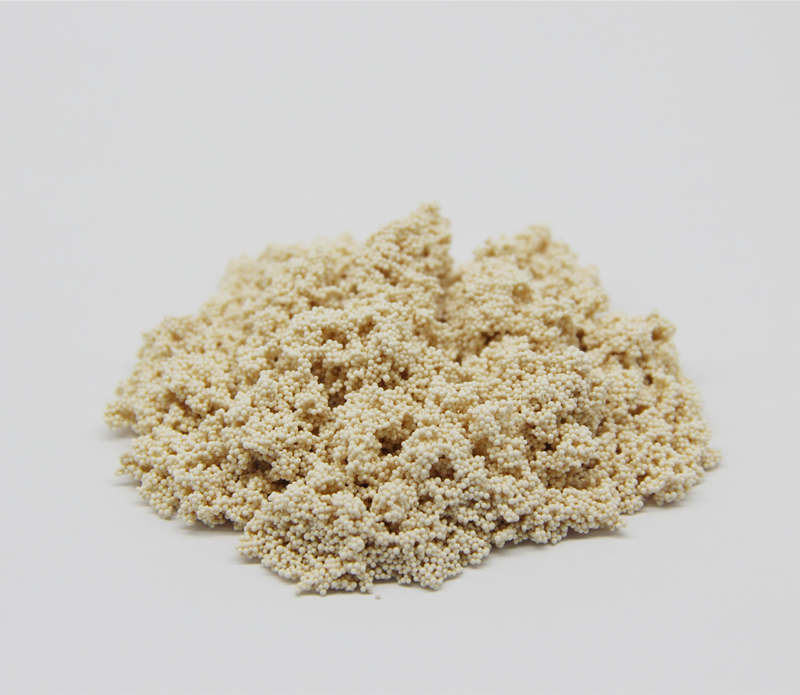 Under Acidic condition:
Copper > Vanadium > (VO) > UO2 > Lead > Nickel > Zinc > Cadmium > Iron (II) > Beryllium > Manganese > Calcium > Magnesium > Strontium > Barium > Sodium.
Under Alkaline condition:
Calcium > Magnesium > Strontium > Nickel > Barium > aluminum > Iron (II) > Copper > Iron (II) > Copper > Cadmium > Vanadium > tungsten > Sodium
Physical and Chemical Characteristics:
| | |
| --- | --- |
| Matrix Structure | Polystyrene DVB, Macroporous |
| Functional group | Iminodiacetic |
| Physical Appearance | Gray to light yellow spheres |
| Particle range (mm) | 0.40-1.00 (>95%) |
| Moisture Content (%) | 50-60 |
| Bulk Density (g/l) | 700-800 |
| Density (g/l) | 1000-1200 |
| Total capacity (eq/L) | ≥2.5 |
Applications:
Recycle Copper from Adipic acid Crystal Mother Liquor

Brine Purification in the chlor alkali industry

Purification of waste stream containing trace metals

Recovery of heavy metals from hydrometallurgical leach streams

Electroplating industry application